All that survives from the "golden age" of Yiddish radio in the 1930s to '50s are a thousand fragile discs, rescued from storerooms, attics, and even dumpsters. But what a story they tell! The Yiddish Radio Project is a celebration of these recordings and of the forgotten geniuses and dreamers who created them. The exhibits on this site feature the Yiddish Radio Project radio documentaries that were first broadcast on NPR's "All Things Considered," rare Yiddish radio clips, archival photographs, and various ephemera from a forgotten radio universe.
Take a voyage to New York City's sweltering underworld.

Crooning sensation Seymour Rexite thrilled his radio audience for forty years, singing all the American standards -- in Yiddish. "Surrey with a Fringe on Top" never sounded so good!


Update, October 6, 2018. Have you been missing our audio? Wondering why our links don't work? Don't worry! We are in the process of restoring everything, so check back frequently and stay tuned for new exhibits and "gems from the archive!"
August 22, 2007 — Herta Freiberg, who along with her family, heroically hid Siegbert Freiberg from the Nazis during World War II, died quietly in her sleep last night. She was 96 years old and lived in New Jersey. Siegbert and Herta were the subjects of our Yiddish Radio Project program "Reunion." Siegbert passed away on April 20, 2002. Their courage, love and devotion will inspire us always.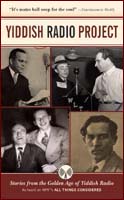 The Yiddish Radio Project series is now available on CD and cassette. Visit our store for more details.